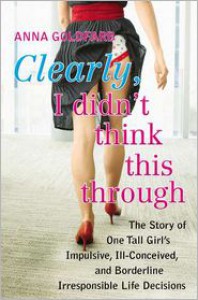 *Check out http://www.infinitereads.com for other reviews and sundry thoughts!*
Meet Anna Goldfarb: 30-something, grad school-educated, unemployed and living with her parents. While all of her friends are getting jobs, getting married and generally getting on with the business of adulthood, Goldfarb can't seem to nail down a job or even a direction. Not one to let an empty bank account and family interventions get her down, Anna simultaneously exercises her two greatest talents--dating short men and dissecting said dating process in hilariously excruciating detail--on the Shmitten Kitten blog and now in Clearly, I Didn't Think This Through.
Goldfarb's preferences don't stop at height (or rather lack of it; suitors above 5'10" need not apply); while her mother would love to see her settled with a Jewish doctor, Goldfarb is more impressed by a man's ability to recite sitcom theme song lyrics or justify a choice of favorite dinosaur over his personality or career choice. The result is a never-ending train wreck of man-children, commitmentphobes and garden-variety jerks that leaves the reader helplessly cackling at Goldfarb's dating trench anecdotes and spot-on analyses of her beaus and herself.
While the reader will occasionally wish for the opportunity to sit Goldfarb down and have a serious discussion about her life choices, beneath her comedic mishaps lies the voice of a generation. Like many young people, she faces the dilemma of what do when the advised route of getting a higher education yields no results. Chatty, funny and timely, her memoir is sure to amuse and touch an audience beyond her regular blog readers.
***This review originally appeared in Shelf Awareness. Sign up for this free and awesome newsletter at http://www.shelf-awareness.com for the latest news and reviews! This review refers to an ARC provided by Shelf Awareness.***